We are students studying in Pune, India, a city far from our homes. While the distance never bothered us before, our experiences having to rush home in a hurry before the lockdowns were imposed has cemented the vast stretch home in our minds. Our lives, as we knew it had come to a standstill. Lucky as we were, we made it home safe and sound. Looking around though, we found many people unable to rush back home as we did. While quite a few were privileged enough to have a shelter and access to food and water, we couldn't help but worry about the migrant workers who toiled day and night to be able to send money back to their families. The lockdowns have left them jobless and to starve.
With all means of transportation shut, these workers are left hungry and unable to send essential money back home, the sole means of subsistence for most of their families. With lockdowns being consistently extended as weeks pass, the uncertainty of not knowing where their next meal will come from has led to people gathering in large numbers at train and bus stations, ignoring protocol as was in Bandra Station, Mumbai. Many then started walking hundreds of kilometers home. The 21st of April, brought in the heart-wrenching news of the demise of a twelve year old who had walked over a 100 km from Telangana to her home in Chhattisgarh. With only eleven kilometers left to reach home, the child had succumbed to fatigue. While news like this on a regular day would be regarded as an anomaly. In today's lockdown enforced world, the news of migrants walking hundreds of kilometers home is quite shockingly normal with people opting to hitch rides on trucks, use cycles or, if left with no other option, resorting to walking home.
In these uncertain times, it would be naive to blame the government for placing the lockdown. As Deep Khira (Founder and CEO at Sub Zero Insulation Technologies Pvt. Ltd.) comments on LinkedIn- "We cannot go back to normal, normal is not working. We have to take learnings from this downtime and define a new 'normal' for India"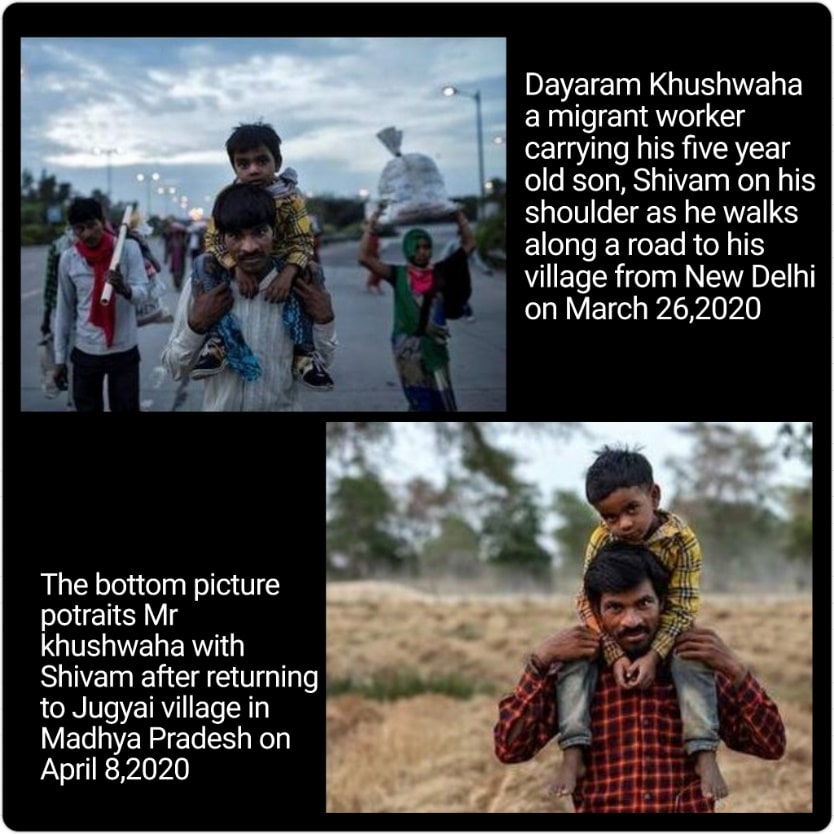 Image source: The Hindu
https://www.thehindu.com/opinion/op-ed/a-change-in-migrant-policy/article31399502.ece
This calls for us to be rational and consider both sides i.e., Authorities working for the nation and the migrants worried about their livelihoods and lives. Just like the coin that has two sides, we must consider all aspects of the lockdown that pose danger to the lives of people. The Government of India has definitely prioritized the safety of their people over the economic loss. Even the President of the United States, Donald Trump had commended the PM undertaking the herculean task of placing a country of 1.3 billion under lockdown. Addressing the problem of migrants however, some suggest that authorities ought to allow reverse migration. However, won't that just put these people under more risk?
Many migrant workers have reported going through psychological distress, and as a result have to be taken to shelters by the police. Talking about the police, we must mention their heroic efforts during these troubled times as they risk their own health and safety to provide food and water to the needy. While there are several people who are getting aid from different organizations, there is a larger population out there; starving and homeless. While this problem isn't unique to India, the virus has ensured the displacement of 40 million migrant labourers, making it difficult for only one body to provide for everyone.
The situation seems to be equally bad across most states like Maharashtra, Uttar Pradesh, Madhya Pradesh and Delhi with the homeless seeking safety under bridges, beside roads and other dangerous places. It was also reported that a 24-year-old migrant worker from West Bengal, who was stranded in Kerala, hanged himself. His mother, while grieving for her son, said "My son was depressed as he could not buy a ticket to board the special train that came to Murshidabad. We have appealed to the local administration to bring back his body."
While the country is locked in debate regarding whether to send workers back home or not, we seem to have forgotten that they are, after all, people. Callous statements about sending them back home have been made with people forgetting the extreme risk migrant workers are facing. Have you ever tried imagining a country full of doctors and engineers and economists but with no one to help construction, sell groceries, transport essentials?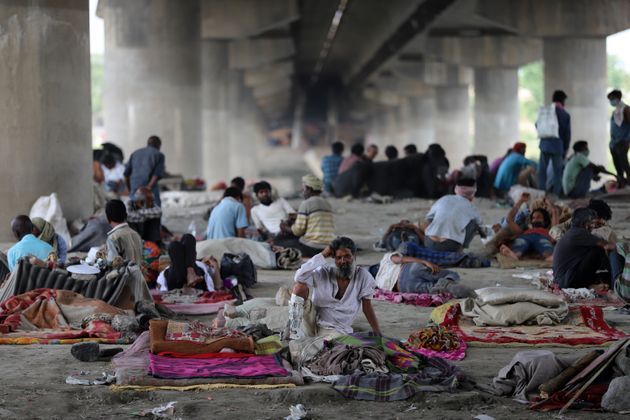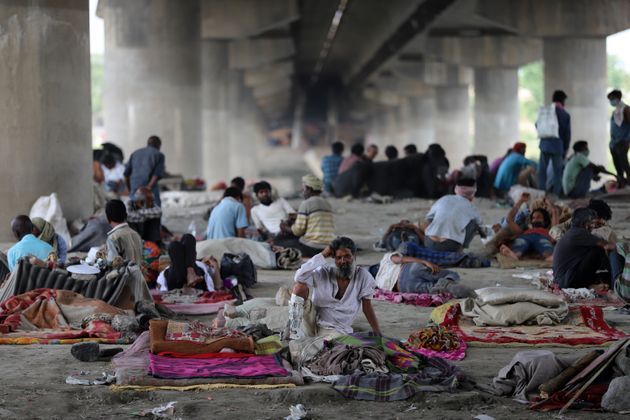 Image source: The Telegraph
https://www.telegraphindia.com/india/coronavirus-technical-issues-leave-migrants-stuck-midway-between-gujarat-and-up/cid/1769775
We must take a step back and remind ourselves how they are all human beings, with lives and families to get back to. One cannot find a one-stop solution to mitigate their crisis. And while the country waits for someone to do something, migrants are faced with the question of choosing death due to hunger or due to the virus.
Hetvi Chheda (Secretary, SCES Student Think Tank)
Nachiket Raval (Member, SCES Student Think Tank)
References
Farooqui, S. (2020, April 28). India coronavirus dispatch: Migrant workers need housing security. Business Standard. New Delhi. Retrieved from https://www.business-standard.com/article/current-affairs/india-coronavirus-dispatch-migrant-workers-need-housing-security-120042800033_1.html
Government Issues Guidelines For Movement Of Migrant Workers Within States. (2020, April 20). Bloomberg Quint. Retrieved from https://www.bloombergquint.com/coronavirus-outbreak/migrant-labourers-to-be-allowed-to-move-within-state-during-lockdown-with-conditions
https://www.linkedin.com/posts/abhigyan-chand-383bb920_migrants-labourers-covid19-activity-6665904217779245058-5EZh/
Pal, S. (2020, May 11). Unable to return home, migrant worker from Bengal allegedly commits suicide in Kerala. Hindustan Times. (A. Chaturvedi, Ed.) Berhampore. Retrieved from https://www.hindustantimes.com/india-news/unable-to-return-home-migrant-worker-from-bengal-ends-life-in-kerala/story-u9HY5rNtYtlEpexnzkr18L.html
Pandey, G. (2020, April 22). Coronavirus in India: Desperate migrant workers trapped in lockdown. BBC News. Delhi. Retrieved from https://www.bbc.com/news/world-asia-india-52360757
Ratho, A., & Bhowmick, S. (2020, April 20). East to West: India's migrant crisis looms large during COVID-19. Observer Research Foundation. Retrieved from https://www.orfonline.org/expert-speak/east-west-india-migrant-crisis-looms-large-during-covid19-64880/
Rawat, V. (2020, May 15). Lockdown: 1.35 mn migrant labourers return to UP amid Covid-19 crisis. Business Standard. Lucknow. Retrieved from https://www.business-standard.com/article/economy-policy/lockdown-1-35-mn-migrant-labourers-return-to-up-amid-covid-19-crisis-120051501050_1.html
Cover image source: Scroll.in (https://scroll.in/article/957166/coronavirus-lockdown-narendra-modi-has-cut-indias-poor-adrift)
Blog link: https://wordpress.com/block-editor/post/symbiosiseurohorizons.wordpress.com/156