From the 1980s, climate change has been a central focus in European policymaking. The European Union has significantly become an international leader in climate change policy and has supported emission reduction goals for industrialised countries, including its own member states. Further, the EU has also been proactive in domestic action towards environmental integrity, with its commitment to reduce greenhouse gas emissions in the EU by 2020. The EU was also instrumental in reaching the global consensus of limiting global temperature rise to below 2°C. The European Union has also followed a diversified approach to climate policy decisions, with various expert groups supporting the European Council group and this system of representation for member states has helped progress domestic policies as well as create a level of coherence in international climate policy. As the threat of global warming and climate change have compounded over the years, the EU is in a position of leading by example and shaping international policies on climate action.
While the European Union has been on track to reduce its emissions by 20% in 2020, some Member States had already exceeded their emissions levels in 2016 and 2017. Experts suggest that the European Union will likely miss its 2030 target, with the European Environmental Agency stating in a report that, "Recent trends highlight a slowing down of progress in areas such as reducing greenhouse gas emissions, industrial emissions, waste generation, improving energy efficiency and the share of renewable energy". Activists such as Greta Thunberg have drawn attention to the weaknesses of the EU's climate action response, highlighting that the window for creating substantial change to curb climate change is small. Despite the efforts to reduce emissions and lower the global temperature, 2019 was the hottest in history for Europe, as reported by the EU's Copernicus Climate Change Service. Nevertheless, the EU can be commended on its dedication to ensuring stringent climate policy action and negotiating international agreements on climate change mitigation.
In 2020, the world is reeling under COVID-19, and carbon emissions levels are expected to be significantly lower given the economic slowdown caused by the pandemic. With several countries including European nations implementing lockdown measures, there has been a visible improvement in environmental conditions. However, as the economy has come to a standstill, there are several concerns that post-COVID action plans may leave behind sustainable practices in the hope for reviving economies and bailing out heavily polluting industries such as manufacturing, fossil fuels, agri-business, etc. For the pandemic hit European Union, the calls for boosting of conventional industries pose a threat to its climate goals, particularly the efforts to make industries more climate-friendly. Within a matter of months, COVID-19 has sparked a new discussion regarding the much-needed transition to cleaner energy sources, environmentally conscious industries and emission reductions. While the current health crisis is the top concern, the European Parliament has begun planning the recovery strategy, drawing up a reconstruction package aligned with Europe's Green Deal. The Green Deal was proposed by the European Commission at the end of 2019 and it consists of legislation and regulation for achieving the EU's goal of zero emissions by 2050.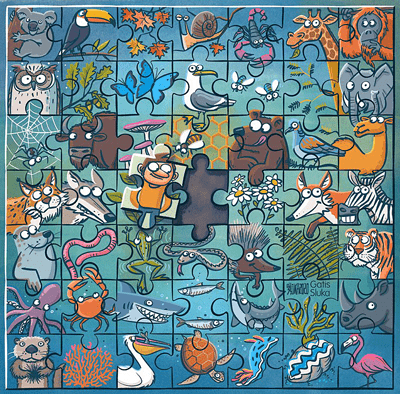 Artwork for the EU's Biodiversity Strategy 2020
(Source: European Commision Website https://ec.europa.eu/)
While many voices in the EU have argued that instead of a focus on the Green Deal, strategic action towards the coronavirus crisis is more important, but if the ideas of the Green Deal can be well-executed, support to the troubled industries can be done in a climate-positive manner. On May 20, 2020 the European Commission adopted a Biodiversity Strategy and a Farm to Fork strategy in line with the Green Deal plan. The Biodiversity Strategy proposes EU restoration targets which are legally binding and accordingly, "30% of EU's landmass and oceans should be designated as protected areas". This strategy also includes the protection of Europe's existing forests and planting of more trees, development of wind-energy systems and conservation of marine ecosystems. The Farm to Fork Strategy is a step towards sustainable agriculture and food production systems, with investments in green technology. Member states of the European Union also have begun taking steps towards a more climate-friendly recovery from the current pandemic. The Franco-German initiative of a joint EU recovery fund of €500 billion also contains a move towards the Green Deal, with leaders of both countries declaring their backing for investment in green technology as part of industrial recovery in the EU. Several major European leaders and industries have pledged a renewed commitment to a green transition. In the midst of such plans, the European Commission is also set to propose its own COVID-19 response, which is being hailed as the 'world's greenest recovery plan'.
While it is heartening that the EU's commitment to climate change mitigation and adaptation has not wavered, with lockdowns being lifted and businesses restarting, the economic impact of the pandemic is slowly shaping up. The broad consensus regarding post-COVID recovery plans is that it will require unprecedented amounts of economic stimulus, drawing on funds from the EU Budget and Central Bank as well. Given that the Commission's recovery plan is yet to be proposed, it cannot be said to what degree climate policy will have a role in the EU's stimulus and revival strategy. So far, the EU's adoption of sustainable policies indicates a desire to set the economy on a green and transformative path. This aspiration, however, requires the EU to also work on challenges it has long faced; integration between EU members, focused change to domestic climate policy and setting clear climate targets that motivate the private sector to leverage financial stimulus in a more environment-friendly direction. The unity of the EU is a key factor, and there is a critical need for close coordination regarding climate goals between the European Member States. Critiques of the newly adopted strategies are also rife and experts from the University of Copenhagen have claimed that if the "EU bloc is successful in implementing policies towards its 2050 goal while the rest of the world is status-quo," countries outside the EU will emit more greenhouse gases, offsetting the EU's emission reductions.
The European Union has long stood for climate action, so much so, climate policy has been an key element in the discussion of European integration. The EU's position in international politics as a champion of multilateralism, coupled with its adoption of several green policies lends more support to its ability to set precedent for other nations to transition to sustainable economic practices and environmental conservation. In the post-COVID era, the European Union is poised to establish its international leadership in the forum of climate policy; all it needs is the answer to this- "Do we want to go back to how things were, or do we want to look ahead to a greener future?"
Nidhi Menon
President, SCES Student Think Tank.
References:
Cover image courtesy of : https://unsplash.com/
Social Media Post-
"Do we want to go back to how things were, or do we want to look ahead to a greener future?" Nidhi Menon deliberates on the role of the European Union and it's strive to be a climate change leader, in her new article titled "EU's Climate Leadership: The Road Ahead".
Blog link: https://symbiosiseurohorizons.wordpress.com/2020/05/23/eus-climate-leadership-the-road-ahead/