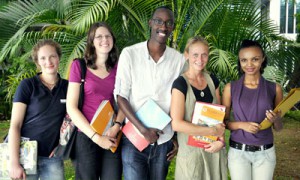 The International Initiatives department under SCIE strives to create an environment where the international students are made comfortable by engaging them in Orientation Programs. They also provide services like foreign registration, assistance in accommodation, meeting with mentors/faculties, setting the academic time table, arranging for buddies, etc. The department also ensures international students' participation in all cultural activities and festivals so the students are exposed to the charactersistics of Indian culture & traditions. Some of the activities include Pune heritage walk, international food festival, students dance competition.
Symbiosis International (Deemed University) encourages students to participate in the Global Immersion Program (GIP). This includes:
1. Study Abroad during the Floating Credit Semester for Undergraduate students:
Under this initiative the Symbiosis International (Deemed University) (SIU) students get an opportunity to Study Abroad for a semester at the University, of their choice. To facilitate the Student mobility, SIU has the Floating credit semester, which allows students to undertake subjects of their choice, and so mapping of the actual course content is not required. This facilitates the students to undertake subjects other than their current courses structure as well.
---
2. Semester Abroad:
SIU has collaborations through various Universities across the globe and has signed Memorandum of understanding with them. This gives the SIU students an opportunity to study at the host university with mutual recognition of the credit hours arising there from allowing the ease of credit transfers. The SIU students also can get the benefit of tuition waivers.
---
3. Summer/Winter Schools:
The SIU students attend summer schools which usually last for two to four weeks in duration and are normally held in spring or summer or winter. The program facilitates visits by students and faculty to learn about the business environment, Global issues, Finance, Art and many such topics, culture of the respective countries and visits to various industrial and business establishments in the host country. They also get the benefit of credit transfers for the Summer/Winter schools.
---
4. Overseas Internships:
SIU encourages students to go out for internships or conducting research on various topics.
Symbiosis International (Deemed University) also encourages students from Partner Universities across the world through the Semester exchanges to come and study at SIU. We also encourage the students from different Universities who are not our partners as free moving students to come and study at SIU.
These students can spend one to two semesters studying the subjects of their choice for which the credits can be transferred back to their home University.
Scholarships
We have entered in some International consortiums like the Ontario Maharashtra GOA (OMG) or the DAAD – A new Passage to India initiative or the Erasmus + Initiative. Through these students get some funding in the form of scholarships for this education.