Understanding the importance of ensuring a fulfilling experience, both academic and social, this department will focus totally on assisting foreign students to adapt to their new home. The students are encouraged to contact this department when faced with problems – academic, administrative, and even issues that are not directly related to the University, such as dealing with formalities at the Foreigners' Registration Office (FRO).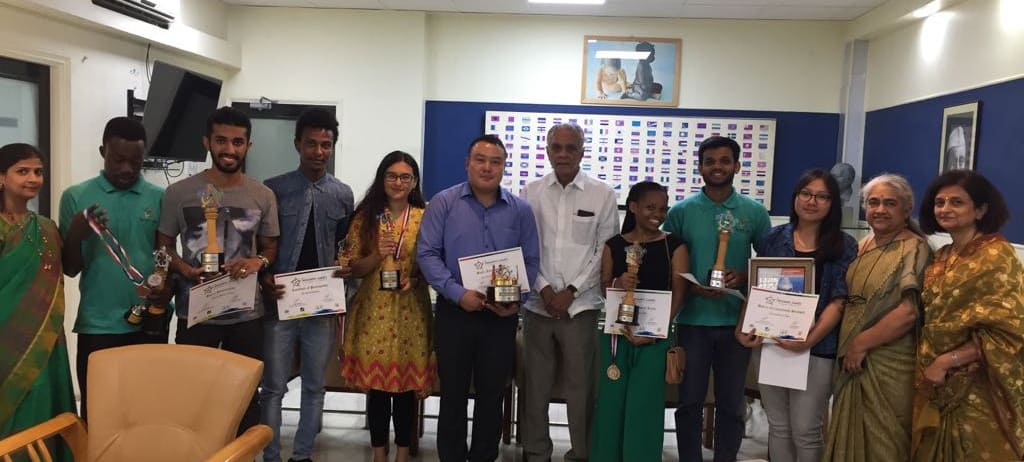 The vision of Symbiosis International (Deemed University) is to 'Promote International Understanding through Quality Education'.
The department has initiated the "buddy" system, which refers to the practice of assigning a mentor to each international student. The "buddy" will be an Indian domestic student, who is familiar with the city of Pune. The "buddy" will be encouraged to help the student overcome challenges big and small – that are related to the institute and the University, as well as everyday problems related to settling down in India.
The department will conduct periodic meetings with international students in their individual institutes. The informal meetings are aimed at providing an opportunity to the students to share their experiences, both good and bad, giving an opportunity to solve these by initiating changes either in policy or regular activities.
This will help in making the international students' experience at Symbiosis International (Deemed University) a pleasant and memorable one.
---
Responsibilities of the buddy:
Help the foreign national student to settle into the accommodation and inform him/her about the campus facilities like health centre, recreational facilities, canteen, etc.
Help to complete the FRO registration formalities.
Should extend academic help to the foreign nationals.
Liaison with International student coordinator regularly.
Try to help the foreign nationals in case of any problems faced by them.
Try to familiarize the foreign nationals with the campus, city, its culture, etc.
The International Students' Council is a student body for the smooth functioning of the activities and events for international students.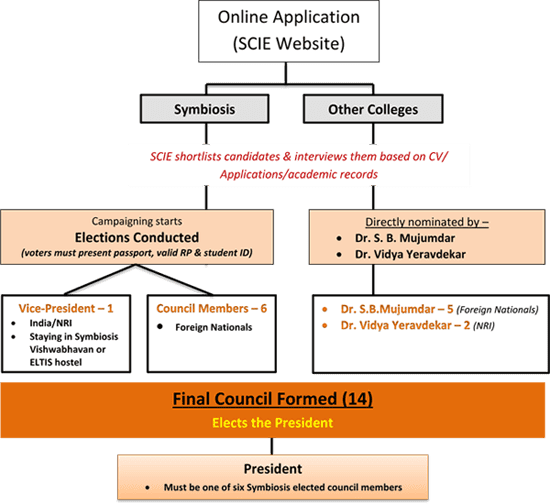 1. Symbiosis International Students' Council will be a body elected for the smooth functioning of the day to day activities of international students studying in various institutions of Symbiosis and other institutes/ country associations in the city.
2. The procedure for election of the students' council will be conducted every year.
3. The tenure of the students' council will be for one year from the period of formation, till the next Council is elected.
4. The Students' council will consist of the following Posts

Public Relations Coordinator (2)

Students Care Coordinator (2)

Administrative Coordinator (2)

5. Of the above, only 6 positions will be open for elections amongst foreign students studying at Symbiosis Institutes. The seventh position (of the Vice President of the Council) will be open for elections only to Indian students residing in the Symbiosis Vishwabhavan Hostel or Symbiosis Hostel Model Colony. 5 positions will be filled up by international students (outside Symbiosis) nominated by Dr. S. B. Mujumdar Sir, President & Founder Director, Symbiosis Society, and Chancellor, Symbiosis International (Deemed University). The remaining 2 positions will be filled up by NRI students of Symbiosis nominated by Dr. Vidya Yeravdekar Madam, Principal Director, Symbiosis, and Executive Director, Symbiosis Centre for International Education.
6. All foreign students who are studying in Symbiosis Institutes as well as from Pune City are eligible to vote in this election. All Indian students who are staying in Symbiosis Vishwabhavan Hostel and Symbiosis Hostel Model Colony are eligible to vote in this election. All such students will need to carry and produce their valid institute Identity Card and any document stating proof of nationality at the time of elections
7. The President of the Council must necessarily be a foreign national studying in any of the Symbiosis Institutes.
8. Final Year students, who will not continue with their further education in Symbiosis, will not be eligible to contest for elections.
9. Students with no backlogs will be preferred for council.
There will be an Election Committee consisting of

Executive Director, Symbiosis Centre for International Education

Deputy Director, Symbiosis Centre for International Education

Executive, Symbiosis Centre for International Education

Coordinators, Symbiosis Centre for International Education

11. All Heads of Symbiosis Institutes will need to communicate the name of one foreign student to Symbiosis Centre for International Education, after conducting a general meeting of all foreign students in the institute.
12. All Country Associations will need to communicate the name of one foreign student to Symbiosis Centre for International Education (on their Association letter head if applicable), as the official nominee from one country.
13. Election will be conducted by a Secret Ballot Vote.
14. A general meeting will be convened to inform and explain the rules and regulations binding the election.
15. Election committee will scrutinize the documents submitted by all nominees and will issue a list of candidates eligible to stand for elections on the Symbiosis Centre for International Education website (www.scie.ac.in)
16. Counting of votes will be done immediately after the votes are cast.
17. Any dispute or protest will be forwarded to the Election Committee. The decision of the Election Committee will be final and binding on all.
18. The 14 members elected (7) and nominated (7) into the Council will then conduct an internal meeting along with SCIE staff members to finalize who will handle which portfolio within the Council. They will then, officially communicate their unanimous decisions to the Election Committee.
19. All members elected into this Council will need to sign an undertaking in the presence of the Election Committee.
20. The Members will formally begin with their responsibilities after the Oath Taking Ceremony at Symbiosis.
Portfolios of the post held by the Student Council
President
Head ISC
Supervise smooth functioning of routine activities
Formal reporting of events
Liaising with various FSA in Pune about the functions organized by the council
Link between SCIE & FSA
Help SCIE in data collection & updating of international students info. on website
Assist SCIE in planning orientation programs for int. students
Depute alternative council member in case of absence of given portfolio holder
---
Vice President
Assist President
Take charge in absence of President
Assist rector in routine hostel activities (S. B. Road campus)
Liaise with SCIE, FSA & int. hostel students in council matters
---
General Secretary
Supervise over other council members
Conduct monthly council meetings & M.O.M to SCIE
Conduct monthly general body meeting (all int. students in hostels & other institutes) 1ce in 6 months.
Informing council about organizing upcoming events & distribute work
Distribute circulars of events in/by SCIE to hostelites.
Maintain data of all contact details of those associated with international associations (e.g. Embassies, Country Associations etc.)
---
Cultural Coordinator
Liaise & keep regular contact with various cultural institutions/organizations/Various embassies in Pune
Keep contact with all symbiosis cultural groups (arts, community work, social service, environmental groups, science and technology groups,culinary groups, film and television groups etc.)
Ensure max. representation for every flag presentation ceremony
---
Sports Coordinator
Liaise & keep regular contact with various sports organizations in Pune
Assist SCIE in organizing a sports week 1ce a year for international students
Inform/communicate with all int. students/council about upcoming sports events
Recommend additional sports activities to SCIE for int. students
---
Administrative Coordinator
Maintain a log of Council activities which require members to travel anywhere in the city, officially
Maintain a record of any stationery given to the Council
Maintain record of CD's / photographs (related to any event), for circulation amongst interested students
To maintain a check list of all allotted responsibilities during the organization of any function.
---
Student Care Coordinator
Assist SCIE in resolving any difficulties faced by international students.
Inform SCIE about problems faced by int. students with the Police/FRO or any other authorities
Visit any ailing student admitted in the hospital, on behalf of the Council & update SCIE
Inform int. students about their country associations and other relevant contact details during orientation
---
Public Relations Coordinator
To liaise with the press and media through the SCIE Office for promotion of all activities (sports/cultural etc.) conducted by the Symbiosis
Stay informed about all promotional happenings in int. student's countries & inform SCIE about the same
Publish newsletter (once in a two months) highlighting all Council activities (completed and up-coming)
Assist SCIE in publishing monthly feature in local newspapers regarding a particular country and its unique features.
---
Finance Coordinator
Budget preparation (of estimated expenditure) to be submitted to (SCIE), a month before every event
Submission of Statement of Accounts (of actual expenditure) to SCIE 15 days post event
To get sponsorships for major events organized by the Symbiosis.